Barbados Overseas Nurses Association

(commonly known as B.O.N.A) was founded in February 4th. 1994, and promotes a better world!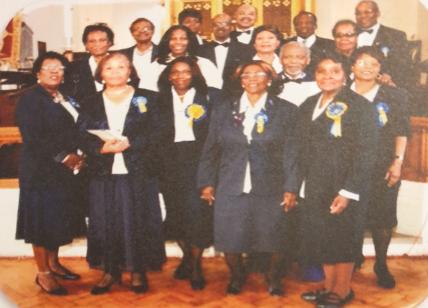 B.O.N.A Choir L-R: Margaret-Morris Springer, Waple Baird, Millicent Batson, Shermane Peters, Gloria Gittens, Orisl Weekes, Colvin Springer, Elkin Neblett, Anne Okokon Norman and Gladstone Redwood-Sawyerr, Hammington Marshall, Irma Inniss,Gwendolin Joseph, Conchita Webbe, Anderson Seale (Organist, hidden)
About Us
B.O.N.A. is a voluntary organisation, dedicated to assist nurses from Barbados and other Eastern Caribbean countries, offering professional aid wherever it is needed; to exchange knowledge on issues relating to all members, families, and especially young adults; to lobby relevant authorities on all issues pertaining to young men and women in our society; to focus on friendship and networking between the UK, Barbados and the Eastern Caribbean; to facilitate the co-operation between other Caribbean organisations; to be involved in fundraising projects; to disseminate useful information to the benefit and support of the community and those we serve.
The overall purpose of this organization is to increase the popularity of our common interests. We hope to add new members so we will be able to grow and expand. We also want to have fun while we are together and working on projects. By developing relationships and friendships, the organization will become even stronger.
Our Motto: ICH DEIN -WE SERVE
Our Vision:To play a dynamic part of the solution.
Mission Statement:
To plan carefully, respond appropriately, monitor consistently and evaluate critically in order to realise our vision, and achieve the aims and objectives of the Association.
In 2011 B.O.N.A. was registered as a Charity No.1142895 and Company Limited by Guarantee No.7564758. It continues to have an elected committee/board comprising of: –
(a)The President and Vice President;
(b) Secretary and Assistant Secretary;
(c) Treasurer and Assistant Treasurer
The Social, Education, Care and Support and Choir Coordinators with their teams take responsibility for their specific areas and the Association's events.
5. Fundraising Activities
The Sponsored Walk, held in April at agreed venues, and the Variety Concert in September/October are standard. Other events may include sightseeing trips in the UK/Europe, and Dinner and Dance, and other activities as agreed.
6. Funding History
In previous years B.O.N.A. has made donations to various causes in Barbados and the UK, including Barbados Diabetic Association, Breast Screening Unit, Alzheimer's Society, Multiple Sclerosis, Physically Challenged Children Association, Barbados Council for the Disabled, and in the UK: Alzheimer's Society UK, St Georges Haemodialysis Unit, HIV, Leukaemia Trust (ACLT). We also make one off donations to deserving causes such as the Haiti disaster, and the Grenada hurricane relief.
Our Work
We work together to make our cause known, to reach out to other groups who share our vision. Whether you're ready to lend a hand at one of our activities or just come along and be part of the experience, you will find a warm welcome.
Join Us
Whether you are a lifetime advocate or new to our cause, we invite you to join us. We welcome new ideas and value enthusiasm from members and volunteers, new and old. Contact the Secretary 07923 928840 email:

ceivongoodie@msn.com

Membership Organization:

C/O SECRETARY

11 LANE COURT

BOLINGBROKE GROVE

LONDON, SW11 6EW
Charity No. 1142895 Limited Company by Guarantee No. 756458